Hot Sale Pet Bottle Oil Filling Machine
1. To change bottle shape, the operator only needs to replace the star-wheel, inlet bottle screw and arc guide plate.
2. The parts contacting media are made from stainless steel and have no process blind angles to enable easy cleaning.
3. PLC+ touch screen, easy operation.
4. PET bottle/plastic bottle
5. 2000-18000BPH
This is Edible Oil Filling Machine
Empty bottles are transferred by variable pitch screw and star-wheels to bottle supports of filling station. There are weighting sensors installed on the bottle supports which are well protected. After automatic peeling is empty bottle inspection and slanting bottle inspection, start to slow filling, then switch to normal filling. It will be switched slow filling when liquid level is approaching determined position, finally the sensor will send signal to stop filling when reach the determined weight. Reset the weighting sensor after bottles leave the bottle support for the following filling, filled bottle will be conveyed to capper by transition star-wheel. Capper is equipped with cap elevator and unscrambler, sorted caps will be conveyed by cap chute to cap feed-in plate where the caps will be captured by capper for capping. Capped bottle will be conveyed to conveying chain for following process.This is Filling And Capping Machine.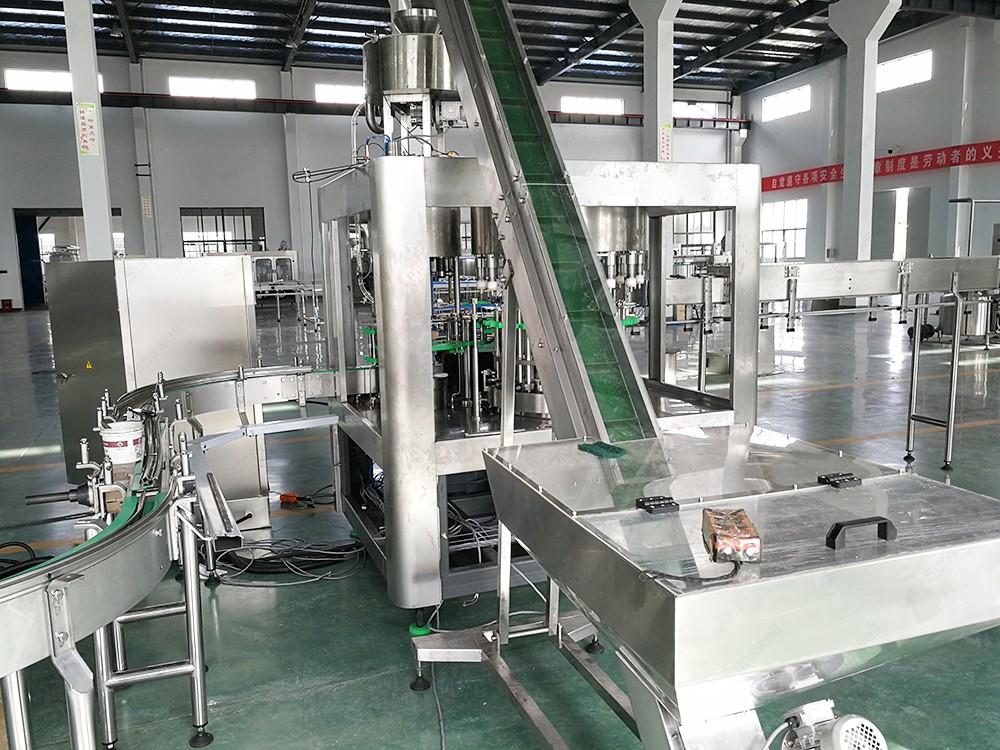 General description
This edible oil weight filling system is special for edible oil filling, capping and equipped with rotary transmission, PLC and frequency adjuster in speed. It is innovated and designed in the requirement of edible oil technics, on the bases of introducing, digesting and absorbing advanced technology. It is reasonable in structure, safe to operate and easy to maintain, which is an ideal choice for edible oil producers.Automatic essential cooking Oil Filling Machine oil bottles.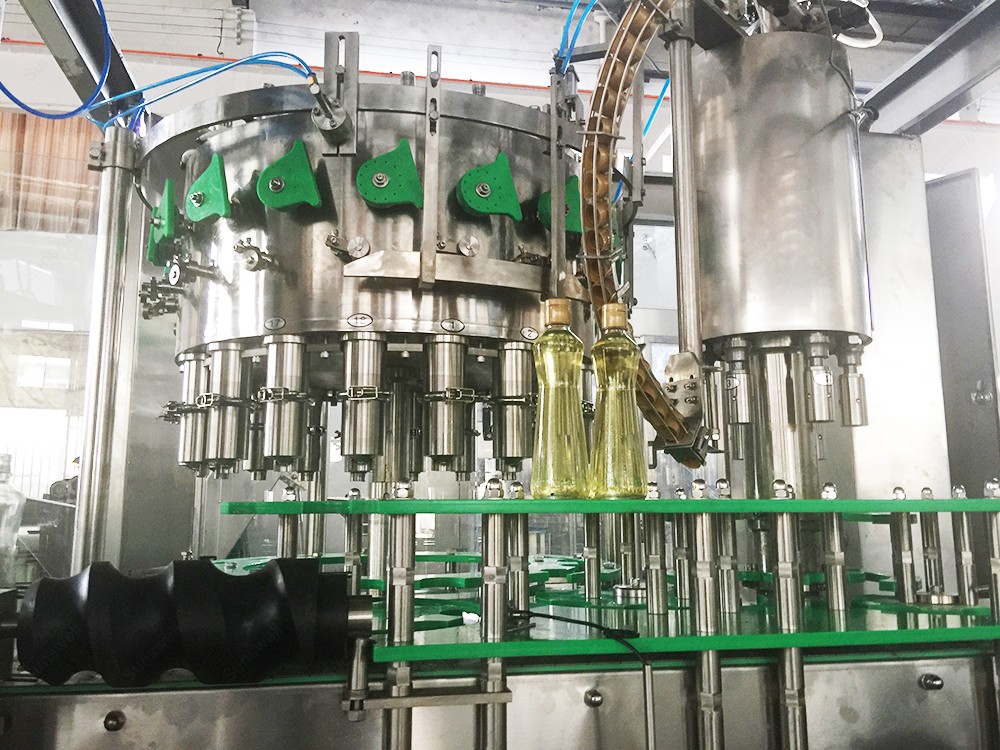 Main Features
1. Compact structure, complete control system, easy operation, highly-automatically, can deal with bottle missing, bottle jamming,bottle blocking automatically. Filling will be stopped when no bottle fed in, failed filling valve will not be fed bottle and cap.
2. Frame adopts welding structure and oil trap for the convenience of collection and discharge of pollution which meet the sanitary filling requirements.
3. It adopts variable pitch screw and bottle supporting conveyor. It can realize fast bottle size change after changing few parts.Bottle support plate adopt flexible structure to avoid to cause damage to weighting sensor in some extreme case. Meanwhile crooked bottle detection is adopted to stop filling when the bottle is not put on the right position.
4. Height of filler and capper are adjustable for easy operation.
5. Machine adopts structure design features corrosion resistance, long life and free from lubrication to save operation cost.Parts which in contact with products adopt excellent stainless steel to avoid dead corner.
6. It adopts weighting filling, weight sensors mounted on the filling stations will send signal to filling valve to stop filling when it has reached the determined weight.
7. Filling valves adopt two-pass cylinder to realize slow-fast-slow filling which can reach high filling accuracy. Manual sanitary butterfly valves are equipped on each filling valves for the convenience of detection and maintenance.
8. There is protection mechanism for weighting sensor to avoid being damage
9. It equipped with drainage recycling device for the convenience of changing products, and drain to specified position.
10. It will alarm if the bottle size not big enough during filling.
11. Cap unscrambler can sort caps to be in order, detection devices are installed on cap hopper and cap chute for realizing auto-control for cap missing and cap full.
12. Overload protection is installed on bottle feed-in and feed-out star-wheel to ensure safe operation. Some other protection device like safe gates are installed.
13. It equipped with imported SKF centralized grease lubrication device to lubricate it periodically by injecting grease.
14. It adopts touch screen to realize human-machine conversation, operation status of equipments are shown on screen clearly.
Automatic Bottled Water Production Line
Water Purification Bottling Machine
Edible oil weight filling machinery model
| | | |
| --- | --- | --- |
| item | Model | Capacity |
| 1 | 12-4 | 5000bph |
| 2 | 18-6 | 8000bph |
| 3 | 24-8 | 12000bph |